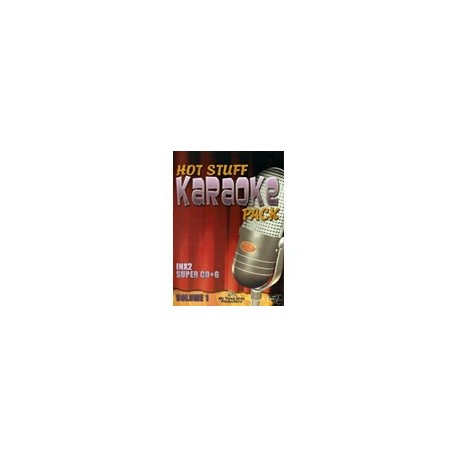 Hot Stuff 1-2-3 SCDG PC MED DVD LÄSARE
Referens SCDG120911
Skick: Ny produkt
Hot Stuff 1-2-3
Nästan 2400 topplåtar på Engelska på bara 3 skivor! Fungerar på CAVS karaokespelare och på PC med DVD-läsare. Multiplex funktion (stödsång på/av) möjlig. Totalt bara cirka 1:-/låt!!!
Denna produkt finns inte längre i lager
Tillgänglig efter datum:
Omdömen
Låtar (397 st)
Det finns inga kundrecensioner just nu.
---

Hot Stuff 1
Livin La Vida Loca
Ricky Martin
My Heart Will Go On
Celine Dion
Butterfly Kisses
Bob Carlisle
Hero
Mariah Carey
Believe
Cher
I Believe I Can Fly
R. Kelly
Power Of Love
Celine Dion
Because You Love Me
Celine Dion
How Do I Live
Trisha Yearwood
Blue
Le Ann Rimes
From This Moment On
Shania Twain
Last Dance
Donna Summers
Strangers In The Night
Frank Sinatra
My Funny Valentine
Linda Ronstadt
Piano Man
Billy Joel
Everybody Loves Somebody
Dean Martin
Y.M.C.A.
Village People
Crazy
Pasty Cline
Friends In Low Places
Garth Brooks
Achy Breaky Heart
Billy Ray Cyrus
To All The Girls Ive Loved Before
Willie Nelson/Julio Iglesias
Chattahoochie
Alan Jackson
Elvira
Oak Ridge Boys
Stand By Your Man
Tammy Wynette
On The Road Again
Willie Nelson/Waylon Jennings
Mountain Music
Alabama
The Dance
Garth Brooks
Forever And Ever Amen
Travis Tritt
Grandpa
The Judds
I Fall To Pieces
Pastry Cline
Mama Dont Let Your Babyies Grow Up To Be Cowboys
Nelson/Jennings
You And I
Rabbit/Gayle
Hey Good Lookin
Hank Williams
Your Cheatin Heart
Hank Williams
El Paso
Marty Robbins
Guitars
Cadillacs
Okie From Muskogee
Merle Haggard
Dont It Make My Brown Eyes Blue
C. Gayle
Its Only Make Believe
Conway Twitty
Crying
Roy Orbinson
Hey Jude
Beatles
Its My Party
Leslie Gore
Proud Mary
Creedance Clearwater Revival
Teddy Bear
Elvis Presley
The Wanderer
Dion & The Belmonts
Aint That A Shame
Fats Domino
I Think I Love You
Partridge Family
California Girls
Beach Boys
Dancing In The Streets
Martha & The Vandellas
Goodnight Sweetheart
Spanish
Day Dream Believer
Monkees
Bye Bye Love
Everly Brothers
California Dreamin
Mamas & Papas
The Beat Goes On
Sonny & Cher
Hello Mary Lou
Ricky Nelson
Jailhouse Rock
Elvis Presley
Rockin Robin
Johnny Day
Brandy
Looking Glass
Come A Little Bit Closer
Jay & The Americans
Wooly Bully
Sam The Sham & The Pharaohs
American Pie
Don Mclean
Born To Be Wild
Steppenwolf
Me & Bobby McGee
Janis Joplin
Margaritaville
Jimmy Buffet
Hotel California
Eagles
Brown Eyed Girl
Van Morrison
Some Kind Of Wonderful
Grand Funk
Cats In The Cradle
Harry Chapin
Hit Me With Your Best Shot
Pat Benatar
Mony Mony
Tommy James & The Shondells
I Love Rock & Roll
Joan Jett
Wonderful Tonight
Eric Clapton
Wild Thing
Troggs
Takin Care Of Business
BTO
I Saw Her Standing There
Beatles
Your Song
Elton John
Unchain My Heart
Joe Cocker
Bad
Bad Leroy Brown
Youve Got To Hide Your Love Away
Beatles
Desperado
Eagles
House Of The Rising Sun
Animals
Eight Days A Week
Beatles
Your Mama Dont Dance
Loggins & Messina
Stop Draggin My Heart Around
Tom Petty/Stevie Nicks
Garden Party
Ricky Nelson
Moondance
Van Morrison
Ramblin Man
Almann Brothers
Back In The USSR
Beatles
Dream On
Aerosmith
Signs
Five Man Electrical Band
Saturday Nights Allright For Fighting
Elton John
Midnight Confession
Grass Roots
The Weight
The Band
Knockin On Heaven Doors
Bob Dylan
Imagine
John Lennon
Gloria
Van Morrison
Na Na Hey Hey Kiss Him Goodbye
Steam
Devil Went Down To Georgia
Charlie Daniels
White Rabbit
Jefferson Airplane
Have You Ever Seen The Rain
Creedence Clearwater Rivival
I Will Always Love You
Whitney Houston
Summer Nights
Olivia Newton
Love Shack
B52S
Celebration
Kool & The Gang
Endless Love
Lionel Richie/Diana Ross
Old Time Rock & Roll
Bob Seger
The Rose
Bette Midler
Up Where We Belong
Joe Cocker/Jennifer Warnes
Wind Beneath My Wings
Bette Midler
Dont Let The Sun Go Down
Elton John
Something To Talk About
Bonnie Raitt
If I Could Turn Back Time
Cher
Fame
Irene Cara
Crazy For You
Madonna
Somewhere Out There
Linda Ronstadt/James Ingram
Dreams
Fleetwood Mac
Always
Atlantic Starr
Dont Go Breakin My Heart
Elton John/Kiki Dee
New York
New York
Mac The Knife
Bobby Darin
After The Lovin
Engelbert Humperdinck
Unchained Melody
Righteous Brothers
I Left My Heart San Francisco
Tony Bennett
My Way
Frank Sinatra
For The Good Times
Ray Price
Could I Have This Dance
Anne Murray
Beyond The Sea
Bobby Darin
Over The Rainbow
Judy Garland
Just A Gigolo
David Lee Roth
Delilah
Tom Jones
Thats Life
Frank Sinatra

---

Hot Stuff 2
Am I Blue
George Strait
Bigger Than The Beatles
Joe Diffie
The Imposible Dream
Elvis Presley
Get Me To The Church On Time
My Fair Lady
Blue Suede Shoes
Elvis Presley
Baby I´m Yours
Barbra Lewis
It´s A Little Too Late
Mark Chestnutt
Black Velvet
Robin Lee
Angel Baby
Rosie & Originals
The Gambler
Kenny Rogers
Wildflower
Skylark
Cheek To Cheek
Traditional
I Only Have Eyes For You
The Flamingos
Ain´t Goin´ Down
Garth Brooks
Anniversary Song
Tony! Toni! Tone!
Always
Patsy Cline
9 To 5
Dolly Parton
A Boy Named Sue
Johnny Cash
Bad Bad Leroy Brown
Jim Croce
Bad Moon Rising
Creedance Clearwater Revival
Walking My Baby Back Home
Nat King Cole
A Girl´s Gotta Do
Mindy McCready
You´re Nobody Till Somebody Loves You
Dean Martin
Strange
Patsy Cline
Mustang Sally
Wilson Pickett
Will You Still Love Me Tomorrow
Carole King
Sweet Caroline
Neil Diamond
Who Put The Bomp
Barry Mann
No One Else On Earth
Wynonna
What´s Your Name
Lynyrd Skynyrd
The Bitch Is Back
Elton John
You Must Have Been A Beautiful Baby
Bobby Darin
Why Haven´t I Heard From You
Reba McEntire
One
Creed
Hurt So Good
John Mellencamp
You Lie
Reba McEntire
Who´s Sorry Now
Connie Francis
Good Golly Miss Molly
Little Richard
Cabaret
Liza Minelli
See You In September
Happenings
Guys Do It All The Time
Mindy McCready
Carrying You´re Love With Me
George Strait
Dedicated To The One I Love
Shirelles
I´ll Be Seeing You
Traditional
Delta Dawn
Tanya Tucker
She Thinks His Name Was John
Reba McEntire
Kiss From A Rose
Seal
Sea Of Love
Honey Drippers
Quando
Quando
I Will Survive
Chantay Savage
Spooky
The Classic IV
My Guy
Mary Wells
Winter Shade Of Pale
Procol Harum
In The Wee Small Hours
June Christy
Bette Davis Eyes
Kim Carnes
Check Yes Or No
George Strait
One Night
Elvis Presley
Super Freak
Rick James
Hey Big Spender
Sweet Charity
Some Where Out There
Ronstadt & Ingram
Return To Sender
Elvis Presley
Purple People Eater
Sheb Wooley
On Broadway
The Drifters
What´s New Pussy Cat
Tom Jones
Lady In Red
Chris Deburgh
Maybe He´ll Notice Her Now
Mindy McCready & Roddie McDowell
I Swear
All 4 One
I Shot The Sheriff
Eric Clapton
My Kind Of Town
Frank Sinatra
I Got You Babe
Sonny & Cher
Something In Red
Lorrie Morgan
Hang On Sloopy
The McCoys
I´m So Excited
Pointer Sisters
Chicago
Frank Sinatra
Mr. Sandman
Emmylou Harris
Pretty Little Andriana
Vince Gill
Shout
Tears For Fears
Like A Rolling Stone
Bob Dylan
Second Hand Rose
Barbra Streisand
Have I Told You Lately
Rod Stewart
My Prayer
Platters
Since I Fell For You
Larry Welsh
Shop Around
Smokey Robinson
Lola
Kinks
What A Wonderful World
Louie Armstrong
Loving You
Elvis Presley
Is Anybody Going To San Antone
Charlie Pride
Blame It On Your Heart
Patty Loveless
Twisted
Keith Sweat
Oh Boy
Buddy Holly
You Really Got Me
Kinks
What´ll I Do
Traditional
Sweet Home Alabama
Lynyrd Skynrd
Volare
Dean Martin
It´s Only A Paper Moon
Nat King Cole
Getting To Know You
King And I
Make The World Go Away
Eddy Arnold
Come Fly With Me
Frank Sinatra
When I Fall In Love
Nat King Cole & Natalie Cole
Save The Best For Last
Vanessa Williams
Two Of A Kind Working On A Full House
Garth Brooks
Thanks For The Memory
Bob Hope
Blue Clear Sky
George Strait
Famous Last Words Of A Fool
George Strait
Stay
Maurice Williams
Our Day Will Come
Ruby & The Romantics
Hold Me
Thrill Me
Joy To The World
Three Dog Night
MMM Bop
Hanson
Lay Down Sally
Eric Clapton
Lady
Little River Band
Macho Man
Village People
One Fine Day
Carole King
I Dreamed A Dream
Les Miserables
Looks Like We Made It
Stephanie Mills
Didn´t We
Frank Sinatra
It´s Your Love
Tim McGraw & Faith Hill
We´ve Got Tonight
Rogers & Easton
December 63´
The Four Seasons
You´ll Never Find
Lou Rawls
Love Me
Elvis Presley
Here´s A Quarter
Travis Tritt
Fast As You
Dwight Yoakum
Sweet Talkin´ Guy
The Chiffons
Give Me One Reason
Tracy Chapman
Suspicion
Terry Stafford
Breaking Up Is Hard To Do
Neil Sedaka
You´re Sixteen
Ringo Star
Proud Mary
Creedance Clearwater Revival
It´s Not Unusual
Tom Jones
What I Like About You
Romantics
Tears On My Pillow
Little Anthony & The Imperials
I´ve Gotta Be Me
Sammy Davis Jr.

---

Hot Stuff 3
Auld Lang Syne
Traditional
Its So Easy
Buddy Holly
Honky Tonk Gir l
Johnny Cash
Leader Of The Pack
Shangri
Ive Gotta Be Me
Sammy Davis Jr
Im Gonna Make You Love Me
Diana Ross/Supremes
Bailamos
Enrique Iglesias
Beautiful Life
Ace Of Base
Walking On Sunshine
Katrina & The Waves
Unchained Melody
Righteous Brothers
Love Hangover
Diana Ross
Someone Saved My Life Tonight
Elton John
I Just Want To Be With You
N Sync
Hot Hot Hot
Buster Poindexter
This Is For The Lover In You
Babyface
Blame It On The Rain
Milli Vanelli
Havin A Party
Southside Johnny
Ill Still Love You More
Trisha Yearwood
Nights On Broadway
Bee Gees
Im Every Woman
Chaka Khan
Petticoat Junction
Tv Theme
More (Theme From
Bobby Darin
Thatll Be The Day
Buddy Holly
Lazy River
Bobby Darin
Sealed With A Kiss
Brian Hyland
All I Ever Need Is You
Cher
Days Of Wine And Roses
Andy Williams
Everythings Coming Up Roses
Ethel Merman
Tootie
Hootie & The Blowfish
Just The Way You Are
Billy Joel
Layla
Derek/The Dominos
Loving Arms
Dixie Chicks
Dangerous
Natalie Cole
Any Man Of Mine
Shania Twain
Everything I Do I Do It For You
Bryan Adams
Love Like This
Faith Evans
If Youre Not In It For Love
Shania Twain
Colour Of The Wind
Vanessa Williams
Angel Of The Morning
Merilee Rush
Love Lies Bleeding
Elton John
Green Acres
Tv Theme
Everyday
Buddy Holly
Witch Doctor
David Seville
A Teenager In Love
Dion & The Belmonts
If
Bread
Killin Time
Clint Black
Gypsies
Tramps & Thieves
You Dont Bring Me Flowers
Neil Diamond/B Streisand
As Long As He Needs Me
Show Tune/Oliver
One Way Out
Allman Brothers Band
The Heart Wont Lie
Reba Mcentire/Vince Gill
Tearin Up My Heart
N Sync
Friends In Low Places
Garth Brooks
Dream On Dreamer
Brand New Heavies
Come On Eileen
Dexys Midnight Runners
One Honest Heart
Reba Mcentire
Dont Cry For Me Argentina
Madonna
Lightning Crashes
Live
On The Down Low
Brian Mcknight
Knockin On Heavens Door
Bob Dylan
Maybe Baby
Buddy Holly
What The Hell Happened To Me
Adam Sandler
For Your Eyes Only
Sheena Easton
Great Pretender
Platters
Summer Wind
Standard
Back In My Arms Again
Supremes
Theres Your Trouble
Dixie Chicks
Spirit In The Sky
Norman Greenbaum
Ill Always Be Right There
Bryan Adams
No Scrubs
Tlc
Autumn Leaves
Standard
I Want It That Way
Backstreet Boys
Love Stinks
J Geils Band
Livin La Vida Loca (Spanish)
Ricky Martin
Satisfied
Richard Marx
Hey Mr. Dj
Backstreet Boys
Pour Some Sugar On Me
Def Leppard
How Am I Supposed To Live Without You
Laura Branigan
Young Americans
David Bowie
Cant You See
Marshall Tucker Band
Words Of Love
Buddy Holly
Runaway
Del Shannon
Chains
Patty Loveless
Theme From The Monkees
Monkees
Toys In The Attic
Aerosmith
Lets Stay Together
Al Green
Somewhere In The Night
Barry Manilow
Passionate Kisses
Mary Chapin Carpenter
Baby
One More Time
I Didnt Know My Own Strength
Lorrie Morgan
Desperado
Eagles
Wide Open Spaces
Dixie Chicks
American Woman
Guess Who
Amazed
Lonestar
Looking Through Your Eyes
Leann Rimes
Why Should I Care
Toni Braxton
U Cant Touch This
Mc Hammer
Dreams
Molly Hatchett
Only One Road
Celine Dion
Im Your Angel
Celine Dion/R Kelly
Stay
Jackson Browne
Well...All Right
Buddy Holly
Poison Ivy
Coasters
Chattanooga Choo Choo
Glenn Miller
Xxxs And Ooos (An American Girl)
Trisha Yearwood
Let Er Rip
Dixie Chicks
Mack The Knife
Bobby Darin
24 Hours At A Time
Marshall Tucker Band
Five Minutes
Lorrie Morgan
Vienna
Billy Joel
Try A Little Tenderness
Otis Redding
Dirty White Boy
Foreigner
Gangstas Paradise
Coolio
Your Love Amazes Me
John Berry
Shes In Love With The Boy
Trisha Yearwood
Adia
Sarah Mclachlan
Youll Never Find Another Love Like Mine
Lou Rawls
The Hardest Thing
98 Degrees
Whatever You Say
Martina Mcbride
Plush
Stone Temple Pilots
Raveon
Buddy Holly
Surrender
Elvis Presley
My Baby Loves Me
Martina Mcbride
Wild One
Faith Hill
My Funny Valentine
Frank Sinatra
Sex And Candy
Marcy Playground
How Insensitive
Standard
Bye Bye Bye
N Sync
The Boy From New York City
Manhattan Transfer
Tonight The Heartaches On Me
Dixie Chicks
Borderline
Madonna
Drift Away
Dobie Gray
Blue Jean Blues
Zz Top

---

OCH EN MASSA FLER....